Common Types of Pneumatic Valves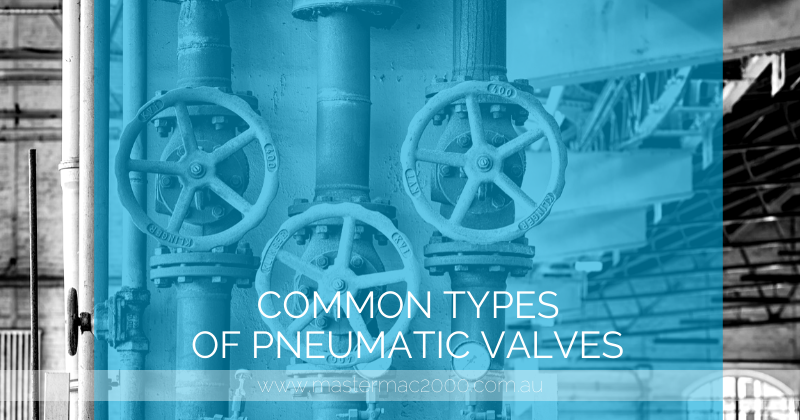 A pneumatic valve is a component responsible for controlling the amount of air, rate, and pressure as it moves through a pneumatic system. Pneumatic systems are dependent on the force of compressed air to transmit power and is found in almost all industrial applications such as diesel engines or even pressure power tools. No matter what given application or type of pneumatic system used, one of several types of pneumatic valves will always be found. 
Functional Directional Pneumatic Valves
Directional pneumatic control valves are categorised based on the number of entry and exit ports in existence, the number of flow paths they create, and the mechanism by which ports are opened and closed.
Two-Way Directional Valve
This valve passes air in two directions, through two ports that can be opened or closed. If both valve ports are closed no air can flow through the valve.
Three-Way Directional Valve
This valve has three ports; the first port is used to connect the valve to another device such as an actuator. The second port is connected to air-flow. The third is an exhaust exit port. Ports can be opened or closed individually, in pairs, or all opened or closed.
Four-Way Directional Valve
This valve obviously has four distinct ports. Two are usually connected to actuators, one is connected to a pressurised air flow, and one serves as an exhaust pathway. This is probably among the most common type of valve found in pneumatic systems because any four of the valves allows for the effective reverse motion of a motor or basic cylinder.
A five-port four-way directional valve has two positions, with its five individual ports that provide various valve configurations like two different exhaust or pressure ports. 
If in need of pneumatic valves or other pneumatic and process automation devices, all you need is to get in touch with MasterMac2000 P/L at their website at https://mastermac2000.com.au/.
MasterMac2000 P/L has quality brands such as Univer, Mack, Tolomatic, Mac, Piab, American, Rotoflux, and much more for any pneumatic solutions needed.